After posting my first Etsy treasury last week, I was given the idea (Thanks
Holly
) to do a blog meme where we can all share our treasuries. So drum roll, please!!!
Announcing Etsy Share.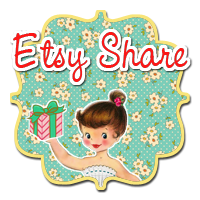 I will post up a linky party tomorrow where you can share the link to your Etsy treasuries and we can all see what neat things we've found on Etsy. I am hoping to do this weekly on Thursday but am open to changing that day around if I get enough interest and input.
Now bear with me because this is the first time I've set up a linky party and am also working out the kinks on an Etsy treasury tool that I found online. So if everything is a little wonky tomorrow, please hang in there with me until I get it all fixed.
I hope you all will join me tomorrow for the very first Etsy Share link party. I can't wait to see what you've all found.