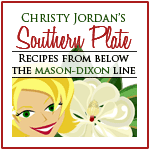 I found this site a few weeks ago. Her recipes remind me of my mom's and granny's cooking. You can find recipes, crafts, household tips, just about anything.
Christy is from Alabama and she started her blog a year ago. I love the recipes she shares because she breaks them down and gives you pictures for every step.
I have tried these recipes so far and my family loved them. They are very easy and you probably have most of the ingredients in your pantry already.
I love to use my crockpot. It is my favorite appliance. I have made this
Slow Cooked Pork Roast
twice already and it is very tender and so very quick to put together.
Christy claims this is the
World's Easiest Supper
. I think the Slow Cooked Pork Roast probably beats it in steps, but this
Taco Soup
is a close second. This soup is my favorite recipe from Southern Plate so far. It is very easy and the soup is so tasty. We topped ours off with some shredded cheese and Bean's favorite oyster crackers. I'd definitely give this one a try.
If you sign up for Christy's newsletter, she will email you a free beef e-cookbook, too. Check out her site. I bet you'll find some awesome recipes to try for your family.